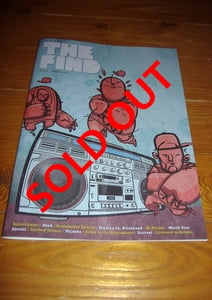 €

7.99
Order includes:
- The printed magazine
- Free European shipping
- Free digital mix with music featured in the magazine
- Lucky people find a free CD in their package by a Japanese producer, European hip hop crew or by a jazzy collective from the USA.
Magazine includes:
Surreal, Emancipator, FS Green, Full Crate, The Gaslamp Killer, SoulChef, Moka Only, Teebs, Eternia, Nicolay vs. Blockhead, Sanford Greene, Eponym & Esta, Two sided article: Jazz Hop, Sotu The Traveller, Cy Yung, 8Bitch, Nujabes Memorial with words by Substantial, Verbal, Pase Rock, Shin-Ski & Blazo, Vlada Stojanovic, M-Phazes, Juan Sativo (of Tiro De Gracia), Shad, Clear Soul Forces, Cradle Orchestra, Bonobo, Strangeloop, Licensed to Sample: a sampling guide for producers, Slugabed, Bocafloja, Jeremiah Jae, BK-One, Free The Robots, Brainfeeder Special, Lewis Parker, Embee (of Looptroop Rockers), Funky DL … and much more.
Preview: http://vimeo.com/18845254
SOLD OUT: Unfortunately this magazine is sold out. But stay tuned on TheFindMag.com or through our social media to stay updated about our next printed effort!